A Focused Approach
Achieving Your Personal Financial Goals
"Wide diversification is only required when investors do not understand what they are doing." – Warren Buffett
It is essential for risk management and long term wealth management to have a well-diversified portfolio. But at what point are you no longer reducing risks and simply just reducing expected returns? If your advisor's strategy is to own every stock in the market (via too many positions, ETF's or funds), then that is not a strategy. It's the lack of one. Overdiversifying results is a portfolio that lacks direction and underperforms. We are active managers. Our strategy is not to ride the waves of the market but to navigate them. We seek to add value through a grassroots approach to portfolio management. We build portfolios with individual stock and bond positions in discretionary and non-discretionary portfolios. We add value through insight into what we invest in and the ability to be tactical in changing environments. This approach allows us to be nimble in the preservation of capital in down markets and strategic when seeking growth in up markets. Ultimately this results in greater consistency in your returns and clarity into your financial well-being.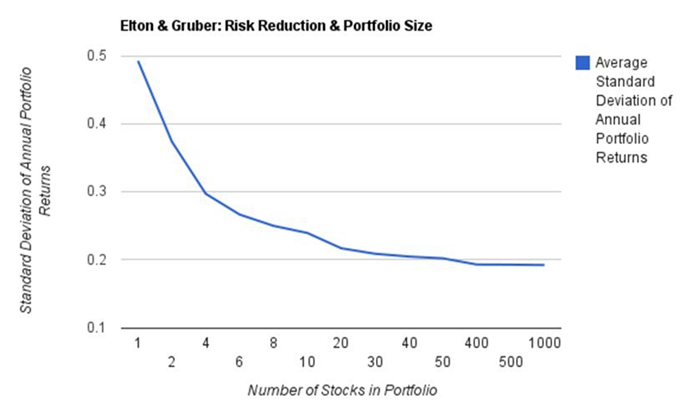 "Modern Portfolio Theory and Investment Analysis – Elton & Gruber" shows the additional stocks from 20 to 1,000 only reduced the portfolio's risk by about 2.5 percent.
A focused approach aims to reduce volatility, rely less on broad market direction, and provide greater consistency.
Our investment strategy is based on extensive research and analysis of the market, economic trends, and company performance. We focus on investing in a portfolio of high-quality stocks and bonds that have a proven track record of delivering strong returns over time. Our objective is not to outperform every market, but to reduce the volatility and provide a stable return that aligns with our client's individual investment goals. Our team offers a transparent and effective investment approach that can help you maximize your returns while minimizing your risks. Our focused strategy allows us to manage through changing market environments and be tactical to safeguard assets in down markets and seek growth in up markets. Our bespoke approach also allows us to manage portfolios more uniquely to a client's personal situation. For example: tax efficient strategies like shifting income streams from "interest only" to "capital gains focused" for better tax treatment.
As an independent firm, we are not tied to any specific financial products or services. This allows us to provide unbiased advice and investment recommendations that align with your best interests.
By partnering with us, you can benefit from our expertise and experience in the investment industry.
We will work closely with you to understand your investment goals and help you build a personalized investment plan that aligns with your objectives.
Contact Craig Madill for a confidential no-obligation consultation.
Wealth Management Services
We offer premier independent wealth management services that puts your financial goals and interest first. At Acumen, we pride ourselves on providing personalized financial solutions to help you achieve your financial aspirations. We understand that each client is unique and has different goals, which is why we tailor our approach to meet your specific needs.
Our experienced team offers a full range of wealth management services, including investment planning, retirement planning, tax planning, estate planning, and more. We utilize data-driven insights to provide comprehensive, objective, and transparent advice.
Our commitment to excellence and transparency means that we are always looking for ways to improve our clients' financial outcomes. We provide regular communication and reporting to keep you informed and engaged in your financial progress. At Acumen, we believe in building long-term relationships with our clients, and we are committed to providing exceptional service that exceeds your expectations.
Retirement Planning Services
WHAT AMOUNT CAN I DRAW EACH YEAR? AND WILL IT LAST?
HOW CAN I REDUCE VOLATILITY IN MY PORTFOLIO AND STILL GROW?
These are common questions and we can help you answer them. We are here to help build a retirement plan, show you how to best utilize your savings in retirement and eliminate concerns about market volatility impacting your portfolio. You have done the hard work in saving for retirement. Let us make sure its invested in the safest manner to achieve your goals.
We provide comprehensive retirement modeling and planning services
We assist you to define a stable retirement income, forecast tax implications, and maximize a withdrawal strategy
We provide retirement models and can work in concert with a client's accountant to achieve a tax efficient retirement
Estate Planning and Insurance Advisory Services
Applying the same integrity-driven principles as we do for our investment related advice and services, we are continually striving to find ways to protect and enhance your well-being.  Our Sr Estate and Insurance Advisor works with us to help meet insurance and estate planning needs of our clientele.
Acumen Estate and Insurance Advisory acts as a broker on your behalf and is not affiliated with a single insurance issuer, so we can provide services from a full range of providers like Manulife, Canada Life, Sunlife, & Empire Life, to name just a few.
Some of these services include solutions to:
Preserve your wealth capital
Protect income, cash flow, or business operations
Facilitate succession planning
Fulfil philanthropic goals
Private Business M&A Services
We can provide our inhouse M&A investment banking team to aid with the sale or transition of your private small businesses. We work with small businesses across Canada, helping entrepreneurs exit or transition out of their business. We assist with establishing market value, locating prospective buyers, and facilitating a transaction. Our experienced team will help you navigate the process of finding the right buyer, negotiating the sale, and managing the legal and financial aspects of the transaction. We have a proven track record of successfully selling businesses in a variety of industries. Our team will work with you to maximize the value of your business, ensuring that you get the best possible return on your investment.
If you are interested in a confidential consultation please contact  Craig Madill.
The  Le Lievre & Madill wealth management team has a combined experience of over 50 years. This experience has shown that, when an investment environment is constantly changing, the challenge is to find skilled partners who can help you achieve your goals while safe guarding your assets. In short, provide ongoing, innovative solutions that address financial issues relevant to you and your family. The Le Lievre & Madill team is dedicated to building long-term relationships with our clients. Our goal is to help you build wealth, enjoy it, protect it and transfer it efficiently to your family and loved ones.
We'd love to sit down and talk. Contact us for a confidential consultation: