The Importance of Customer Service
By Mateo Michalec
Does this scenario sound familiar to you?
You walk into the bank, the bank you have been dealing with for years…. You walk up to the customer service window, and they ask you politely what they can do for you. You respond, "I would like to open an investment account for myself."
They tell you that unfortunately we do not have anyone available today, but that we can book an appointment for tomorrow.  You agree and book the meeting for tomorrow. You show up the next day, sign a few documents to open the account and the advisor lets you know that the account will be opened within 48 hours.
3 days later the account is still not opened, and you have not heard from anyone yet. You are patient so the following day, still not having heard from someone, you call the advisor back. They don't pick up the phone, so you leave a voicemail.  The voicemail says they will call you back before the end of the day….. By the end of the day you still have not heard from anyone.
So, the next day you call again and send an email. You get a call back from the branch manager apologizing for the delay and that the account should be opened tomorrow. Tomorrow comes around and the account is STILL not opened. You have to walk into the branch to ask what is going on. After speaking with the branch manager, they take some initiative and finally get the account opened for you.
Something that was promised to take less than 2 days has now taken well over a week.
I have heard this story too many times, and it's unacceptable service. There are many reasons for this to happen, however, regardless of the excuse, the client should always come FIRST.
We posted a LinkedIn online poll and asked, "How long should a business take to respond to a client question/request?"
94% responded 24 hours or less!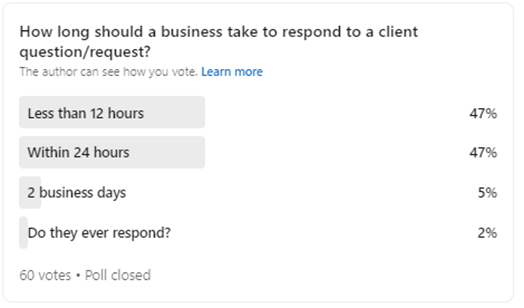 A report from NewVoice Media's 2018 "Serial Switchers" revealed that poor customer service is costing businesses more than $75 billion a year, and that is up by $13 billion from 2016 since the last report. The report goes on to say that "The result is that 67 percent of customers have become "serial switchers," customers who are willing to switch brands because of a poor customer experience".  (https://www.forbes.com/sites/shephyken/2018/05/17/businesses-lose-75-billion-due-to-poor-customer-service)
Not only is having a great product or service very important to the success of your business but your customer service skills must be great.
At Acumen, our clients expect the best and they receive the best!  You can ask ANY of my clients and they will tell you they always get an answer back from me within a reasonable time. The old saying rings true: Treat people the same way you wish to be treated! If you want to experience great customer service along with top-notch investment advice and planning, let's meet.
Ready to experience great customer service?
Contact Mateo to book a free no-obligation consultation to learn more.